Employee Spotlight: Gavyn Trowbridge
Ionoptika is very proud of its skilled and dedicated staff, who together with our loyal users make up our global community. In our ongoing series, we shine the spotlight on one of our talented colleagues each month to introduce you to some of the people behind Ionoptika.
This month we move away from new hires to what will be a very familiar face to many of our customers around the world, Senior Test & Service Engineer, Gavyn Trowbridge. Gavyn is one of Ionoptika's longest serving employees, joining the company in 2004, and today he manages our customer installations and service work around the world. We asked Gavyn for an insight into his time at Ionoptika.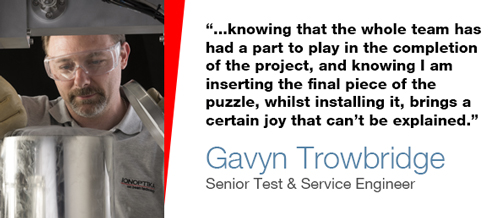 How long have you worked at Ionoptika and what career path brought you to us?
I joined Ionoptika in Feb 2004, having previously worked in various roles in the manufacturing sector including a PCB factory, high power micro generators, up to 100kW of power from gas turbines. I self-educated through night school and day release. The role at Ionoptika suited me because I have always been interested in taking things apart, seeing how they work, and putting them back together.
What do you enjoy most about working at Ionoptika?
I appreciate the diverse range of skills and experience we have in the factory team, and the toys are pretty cool too. We get paid to play with toys!!
But the prospect that we may be creating something that could change the world for the better is a real buzz; a pharmaceutical breakthrough? A medical research breakthrough? New things never seen before in the field?
You never know what research, or researchers you may meet in the field on a customer site. The projects that our customers work on are each fascinating in their own way!
My favourite part of the role is the final installation of the instruments: knowing that the whole team has had a part to play in the completion of the project, and knowing I am inserting the final piece of the puzzle, whilst installing it, brings a certain joy that can't be explained.
Can you describe a typical day working at Ionoptika (normally, not in the lockdown!)
There's never a dull moment in my day and no such thing as a typical day. One day I may be building a prototype, another fixing something, and another testing a customer system. Or just general helping of others with my long-term experience? I also usually spend quite a lot of time on customer sites around the world.
What has been your best memory or achievement during your time at Ionoptika?
The installation of the J105 instruments is quite exciting. You never know where one might be going and it's a real buzz to travel to global customer sites to install these systems.
What do you enjoy doing in your spare time?
Gaming, music, walking, meditation, the great outdoors. Often meditating in places of beauty.
Have you been doing anything interesting/different/new to cope with the lockdown?
Trying to stay sane!!! Making the most of not being away and making home improvements.
What are you looking forward to most once the lockdown is over?
Enjoying the great outdoors more, exploring new places. This year's holiday was going to be an eastern European adventure, taking in 4 countries, but this is now postponed until next year!
---
Interested in becoming part of our team? Visit our Careers page.
https://ionoptika.com/wp-content/uploads/2020/06/Gavyn_2.jpg
370
520
webmaster
https://ionoptika.com/wp-content/uploads/2018/06/IO_logo_black_700x322.png
webmaster
2020-06-10 13:29:46
2020-06-10 13:39:12
Employee Spotlight: Gavyn Trowbridge